Literally translating into the land of high mountain passes, Ladakh is a union territory in the Kashmir region in India. Tourist places at Ladakh are known for their rugged and pristine beauty. This land is filled with prayer flags, monasteries, and stupas. It is often referred to as "Little Tibet" due to its proximity and cultural reference, warm hospitality, and striking resemblance in Ladakh visiting places. We have listed the most voted and famous places to visit in Leh Ladakh.
About Ladakh – Places To Visit In Leh Ladakh
Ladakh is known as the 'World's coldest desert' and is dominated by dramatic landscapes. To begin with, Khardung La, Zanskar, Pangong Lake are few popular tourist places at Ladakh. However, there are multiple options for tourist places to visit in Leh Ladakh.
Make your list and explore the magnificence of this land. Ladakh visiting places are safe to explore. Quite a few Tourist places at Ladakh need Inner Line Permit for visitors. We have mentioned the same in the list below.
Many people ask questions like "What is the Capital of Ladakh?" or "Ladakh is in which state?". Ladakh is the name of the union territory and Leh is the capital of Ladakh. Leh and Kargil are the two districts of Ladakh. We have made a list of Ladakh visiting places.
Suppose you are travelling by road from Delhi. In that case, you can take the Manali or Srinagar highway, which usually takes around 2 days. To visit Ladakh in winter, the only option is to take a flight from Delhi / Chandigarh / Srinagar or Jammu.
Srinagar and Manali Highways remain closed in winters. This is due to very heavy snowfall on the high mountain passes like Baralach La and Zoji La. The Manali and Srinagar highway typically open up in April/May again. 
Top 10 Ladakh Visiting Places
1) Pangong Lake
It is one of the most popular Ladakh tourism places. At 4350 metres above sea level, Pangong Lake is the world's highest saltwater lake. It is one of the most visited places in Ladakh as well.
It is about 150 km from Leh and crosses Chang La pass to enter the Changthang area of Ladakh.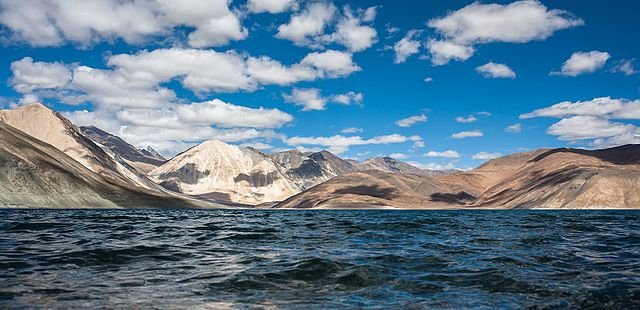 Pangong Lake, also known as Pangong Tso, stretches over 12 km and extends from India to Tibet. One of the unique characteristics of this lake is that it changes colour throughout the day, varying from azure and green to even grey.
Visitors need an inner line permit to visit the lake. It falls under the Sino-Indian Actual Line of Control.
2) Khardung La
Khardung La is a high mountain pass in the Ladakh region with a picturesque view of the Karakoram range and the Himalayas.
While it is not a typical tourist destination, it is still one of the most Ladakh visiting places among adventure seekers. It has the highest motorable road at an elevation of 5602 metres. Khardung La serves as a gateway to Nubra and Shyok Valleys.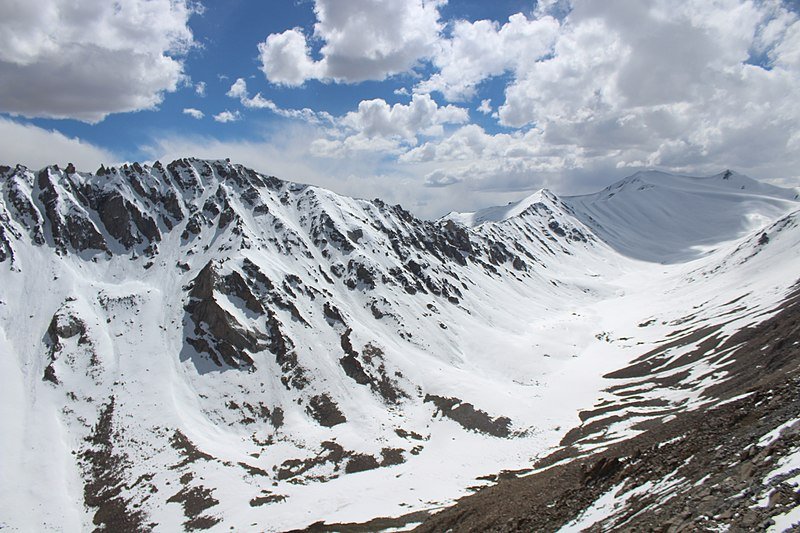 Visitors need an Inner Line Permit to enter and travel through Khardung La. This pass is vital because it carries different supplies to the Siachen glacier. So hire a cruiser bike or a Himalayan and make the most of your journey through this rugged beauty.
There is minimal network connectivity in this region. Carry a basic first-aid kit as there is a lack of medical facilities in the area. Known for its majestic beauty, this is definitely one of the popular places to visit in Leh Ladakh.
3) Nubra Valley
This valley is among one of the top 5 must-visit in Ladakh visiting places. Known for its beautiful white sand deserts and two-humped camels.
Nubra Valley is on the ancient Silk Route at around 140 km from Leh. Nubra and Shyok rivers flow through the valley. This region is always under military supervision.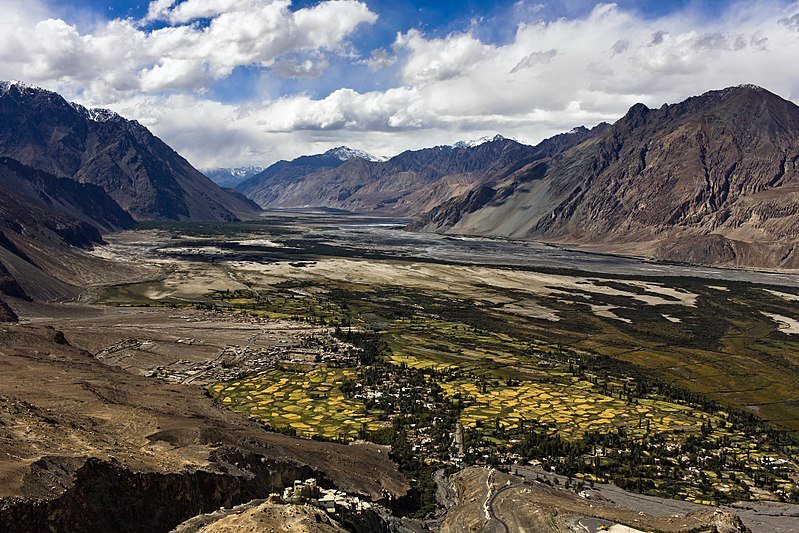 It further leads to the Siachen base camp, which is also the highest battlefield in the world. Nubra Valley is famous for its 32 metres Maitreya Buddha statue. This statue is located near the Deskit monastery.
With those majestic mountains in the backdrop, it is also famous for the Bactrian camel rides. These camels were also a primary source of transportation back in the day.
There are other activities such as ATV rides and ziplining activities that you can also participate in. This has its own position in Tourist places at Ladakh due to its diverse options. 
4) Sangam
 Sangam is located around 35 km from Leh and is the junction where the Indus and Zanskar rivers meet. This is also one of the Top Ladakh visiting places. You can distinguish between the two rivers very clearly as they have different colours.
While the Indus river is bright blue, Zanskar seems muddy green. It is truly a sight to behold. Zanskar river is swift during summers and almost frozen during winters.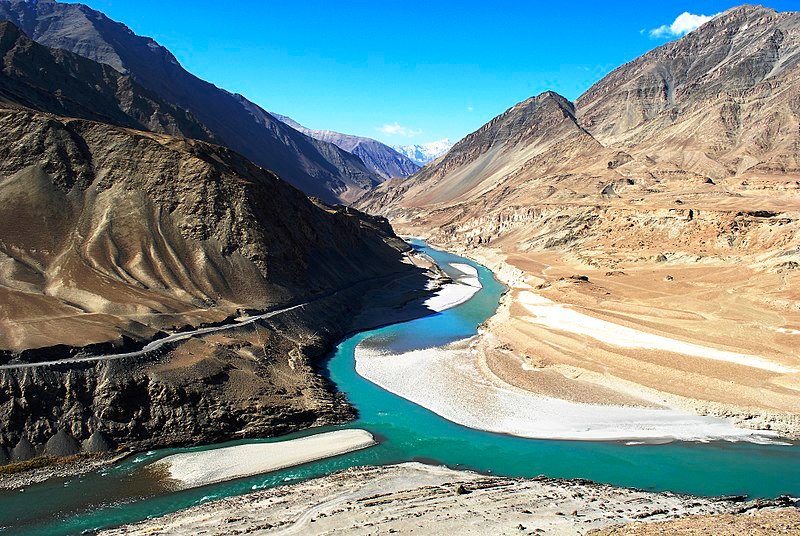 In contrast, the Indus river mostly stays calm, and the flow is even less during winters. Originating in Tibet, the Indus is one of the longest rivers in Asia. Zanskar Valley is the origin point of the Zanskar river. You can do river rafting and book the package from Rafting Point Sangam. This makes it the most adventurous places to visit in Leh Ladakh.
Sangam is visible from the main highway as a road that bifurcates on the Leh-Srinagar Highway. There are no specific local buses that go to Sangam, but you can always board a bus to Srinagar and get down here.
Due to its high altitude, Acute Mountain Sickness is very common there.
5) Shanti Stupa:
Japanese Buddhist Bhikshu Gyomyo Nakamura built this construction to celebrate the completion of 2500 years of Buddhism. It was built in 1991 to promote world peace and is part of the peace pagoda mission, which aims to promote peace.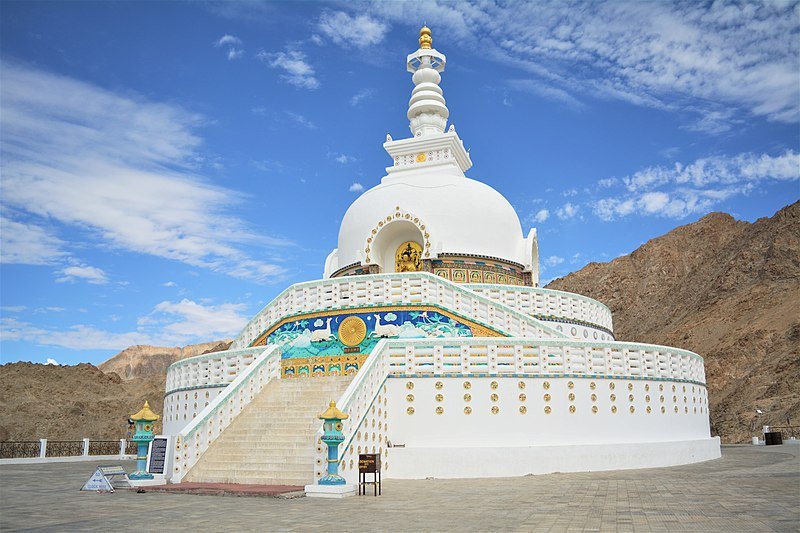 The stupa is located at 11,841 feet with a magnificent view of Leh and the neighbouring Chanspa village. During a full moon, the light illuminates the white stupa and is great for night photography.
This beautiful attraction definitely makes it to the list of must-visit Ladakh visiting places due to its historical importance and beautiful architecture.
6) Tso Moriri – Best Voted Places To Visit Leh Ladakh
This sparkly blue tiny paradise is tucked away in a rugged environment at an altitude of 4595 metres.
This makes it the highest altitude lake in India and one of the most Ladakh visiting places. Tso Moriri is about 28km in length and 8km wide, surrounded by mountains and offers spectacular views.
The lake remains entirely frozen during winters. But the good news is you can visit the lake even during the winter season. May-August is the peak tourist season to visit this lake. Always carry warm clothes when travelling to Tso Moriri as the weather is very unpredictable.
Tso Moriri also needs an Inner Line Permit and is inaccessible by public transport. Contact a tour operator in Leh. They can arrange everything, including the permit. This area is a wetland reserve, which means visitors can't pitch tents. However, for you to stay, some tents and camps are available at designated Tourist places at Ladakh. It is best to watch the sunrise from these camps or hike on a nearby hill.
7) Magnetic Hill
One of the most visited Ladakh visiting places, this cyclops hill defies gravity where vehicles move uphill when they are parked in the marked location.
All you need to do is park your car at a designated spot on Magnetic Hill road and release the brakes; the car will start moving at a speed of 20 Kmph. Fascinating, right? Tourists from all over the world visit Magnetic Hill to experience this phenomenon.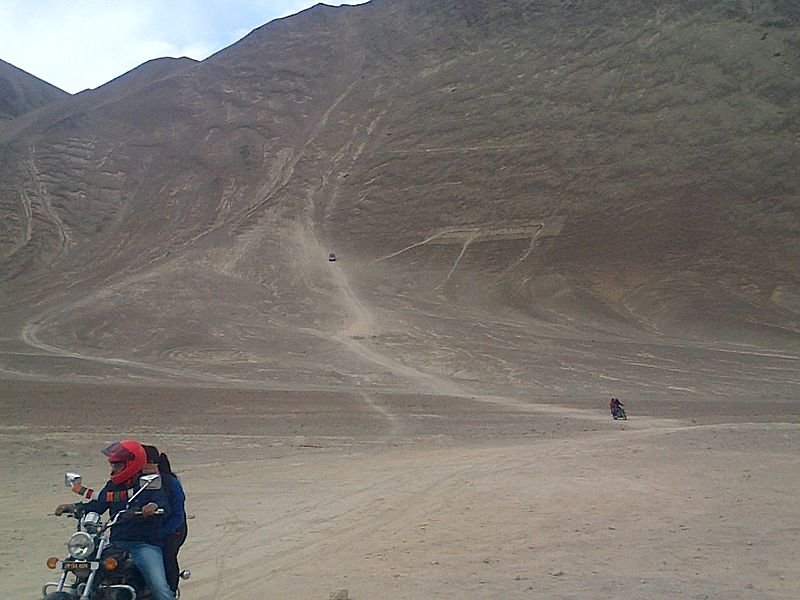 This had to make it to the list of Places To Visit Leh Ladakh. There are multiple myths around this phenomenon, but the fact is that it is an optical illusion. Your car may start rolling uphill and gain speed gradually. This is actually when your car is gaining momentum while rolling downhill.
The theory states that the optical illusion occurs because of the drop and rise in terrain and the lack of a visible horizon, which creates an illusion of the downward slope going uphill. This is located at a distance of 30kms from Leh and is a tourist destination for local sightseeing.
Whether it is an optical illusion or actual magnetic forces that cause your vehicle to defy gravity, you need to go there and actually experience it. Magnetic Hill makes it to the list of top visited tourist places at Ladakh.
8) Hall of Fame Ladakh
The Indian Army maintains this museum in memory of martyrs of the Indo-Pakistan war. The Hall of Fame holds a significant position in Ladakh visiting places.
Located around 4km from Leh-Kargil road, the Hall of Fame exhibits seized arms and amenities of the Pakistani Army and pictures and biographies of soldiers.
You can also experience other items related to Ladakhi culture and other amenities used by the Indian Army in the Siachen area. The entry fee is INR 10 for Indians and INR 50 for foreigners.
9) Thiksey Monastery
Currently home to over 100 monks, this Tibetan style monastery is located around 20 km south of Leh on the Leh-Manali highway.
This monastery is also home to 15 metre-high Maitreya Buddha statue. This 12-storeyed monastery offers breathtaking views of the Indus valley and the town.
The white buildings are set out in hierarchical order against the rugged brown mountains and resemble the Potala Palace in Lhasa.
There are many other attractions in Thiksey, such as Tara Temple, Lamokhang Temple, Nunnery, to name a few. This is one of the significant Ladakh visiting places.
10) Maitreya Buddha
Nubra Valley has lots of fascinating things to fall in love with. One such thing is the 108 feet tall Maitreya Buddha statue located at an altitude of 10,308 feet.
From its aesthetics to its sheer size, everything will amaze you. This is one of the Top Places To Visit Leh Ladakh. It is located below the Diskit Monastery, 15 km northwest of the Khalsar-Panakir route. The mesmerising red and gold statue faces the ShyokRiver towards Pakistan.
Indians need an Inner Line Permit to visit Nubra Valley. It also represents three ideas: promoting world peace, protecting Diskit village, and preventing further war with Pakistan. Artisans painted the exterior of the statue with 8Kgs of gold. The then Head of the Gompa donated the gold to build this huge Budhha statue.
The Holy Dalai Lama declared this statue as sacred on 24th July 2010. The best time to visit this statue is from May to September.
From 11-20 Top Ladakh Visiting Places
11) Zanskar Valley
It is located 13,154 feet above sea level and its raw beauty just mesmerises everyone. The valley offers adventure sports such as trekking and river rafting for an adventure seeker.
Zanskar valley is a semi-desert area with snow-capped mountains and surreal blue rivers. This valley remains cut off in winters from the rest of the world for almost 9 months due to heavy snowfall.
The only way to reach Zanskar valley during the winters is through the Chadar Trek; otherwise, the easiest way to come here is through Suru Valley from Kargil. Locally pronounced as Zahar or Zangskar, it is separated from Ladakh by the Zanskar mountain range, also part of Tethys Himalayas.
Mobile connectivity is negligible in this region. The nearest ATM is in Padum market. This is very popular with tourists among other Ladakh visiting places.
12) Shey Monastery and Palace:
Located at a distance of 15km from Leh, this ancient monastery once served as the summer capital of Ladakh.
The King of Ladakh built this palace, Deldan Namgyal, in 1655 in memory of his father. This palace is mostly in ruins now but still offers incredible panoramic views of the valley. It is home to the second-largest Buddha statue in Jammu and Kashmir, Shakyamuni Buddha, standing tall at 39 feet.
You need special permission to visit this monastery. You can see this monastery and the neighbouring monasteries such as Thiksey Monastery, Hemis Monastery, Matho Monastery and Stakna Monastery. There are multiple murals and rock carvings of Buddha in the monastery's premises.
Visit the monastery during Shey Rupla and Shey Doo Lhoo festival to see it all decked up. Photography is prohibited in the inner sanctum, which is mostly closed.
Shey Monastery can be visited while travelling to or from Pangong Lake.
13) Stok Palace
This palace is now converted into a heritage hotel and recognised as a well-preserved piece of Buddhist culture.
Stok Palace is the summer home of the royal family of Ladakh and is located around 15 km from Leh. Dalai Lama opened it to the world in 1980. King Tsepal Namgyal built this palace in 1820. Divided into six units, the Stok Palace and further three divisions in Chulli Bagh Villa.
You are recommended to visit Stok Palace during Stok Guru Tsechu. Locals celebrate this Tibetan festival in the first month of the Tibetan calendar. Tourists often visit this place during June and September. Tourists can easily reach Stok from Leh via cab. It takes around 45 minutes on a bus from Leh.
The Stok Palace Temple is another extension of the royal house within the premises of the heritage hotel. Located at the topmost level of the palace, this temple is dedicated to the Buddha.
14) Hemis Monastery
The history of Hemis Monastery goes back to the middle ages. Another legend connected to this monastery is a lost Christian gospel, initially discovered here during the 19th century. Many people still believe in it, but it was proven a hoax after a couple of years.
Built by Senge Namgyal, the Ladakhi king, this Buddhist monastery is about 45 km from Leh. Hemis Festival happens every year in June with great zeal and enthusiasm. So, we highly recommended definitely seeing this Ladakh visiting places in June.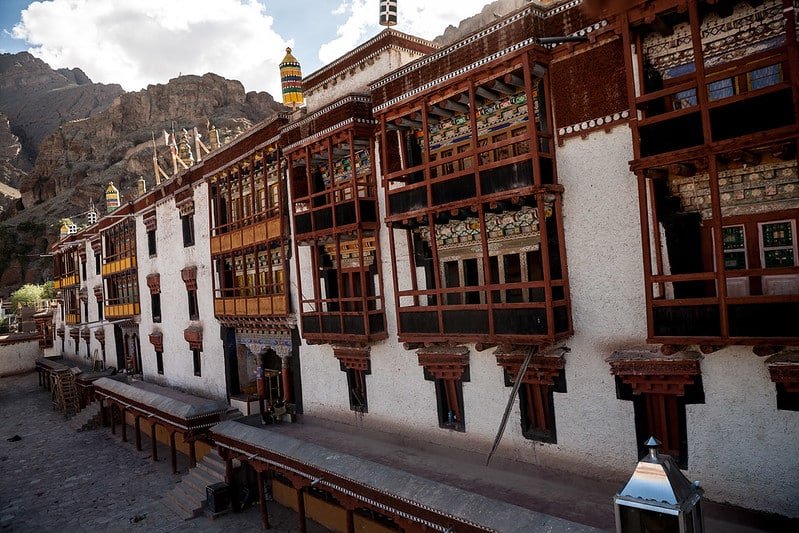 Hemis monastery is surrounded by colourful prayer flags on all sides, known to send out prayers to Lord Buddha. It looks surreal when these prayer flags dance with the wind. This institute teaches Tantric Vajrayana and houses a magnificent copper Buddha statue and stupas made with silver and gold and different murals.
This colourful Tibetan style architecture is a maze of buildings, courtyards, and multiple alleys. It takes approximately an hour to reach this monastery from Leh by bus or private car.
15) Pathar Sahib Gurudwara
This Gurudwara is dedicated to Guru Nanak Dev Ji which is located around 25km from Leh city. A demon once dominated the gurudwara during the 15th century. Guru Nanak Dev defeated the monster and freed the place from him.
The gurudwara houses a rock that resembles Guru Nanak's back. Lamas and the Indian Army looks after this place. People stop here and pay their respects before going ahead with their journey.
The gurudwara is open for tourists from 6 am to 7 pm, with tea and rusk offered to visitors round the clock. For Sikh travellers, this is one of the most wanted places to visit Leh Ladakh.
16) Kargil – Unexplored Places To Visit Leh Ladakh
Situated close to the Line of Control, it is usually a stopover for people travelling from Leh to Srinagar. This tourist hotspot is also a volatile region due to its proximity to the LOC.
Kargil is the second-largest town in Ladakh and is located on the banks of the Indus River. Situated at an altitude of 2704 metres above sea level, Kargil is a paradise for adventure seekers. Kargil has a war memorial that is the major attraction of this place.
Still, it also offers excellent opportunities for other activities such as river rafting, mountaineering and trekking. Apart from being a tourist hotspot, it is also an important centre for trade and commerce.
Kargil is one of the largest producers of apricot in the country. Kargil holds a significant position in Tourist places at Ladakh due to its history.  
17) Likir Monastery
Belonging to the Gelugpa sect of Tibetan Buddhism, this is the oldest monastery of Ladakh and is located around 52 km from Leh in Likir village.
Likir translates to 'The Naga-Encircled'. Nanda and Taksako, two great serpent spirits, guard the monastery. Ngari Rinpoche, the youngest brother of the Dalai Lama, was seated here in Likir Monastery. Likir Monastery houses a library that has old manuscripts, books on Buddhism and the teachings of Tsong Khapa.
This monastery has white walls, red roofs, and a 75 feet Buddha statue. You will find the Guardians of the Four Directions painted on both sides of the entrance, which leads to a hall, having 6 rows of seats and a throne for the head of the monastery.
It also has multiple statues, such as Bodhisattva, Amitabha, Maitreya, and Tsong Khapa. The walls are lined with huge glass bookshelves that contain different volumes of Buddha's teaching and Tandshur. Zinchun, located on the monastery's first floor, is the room for the head-lama. Local buses run from 05:30 am to 03:30 pm between Leh and Likir.
You can also opt for self-drive and hire a taxi to visit this monastery. You can either take the Manali-Leh route (open from July to October) or the Srinagar-Leh route (available from April/May to Nov/December) to reach Likir Monastery.
This monastery's elaborate and beautiful structure makes it one of the best Ladakh visiting places.
18) Alchi Monastery
Alchi Monastery houses three different temples, Dukhang, Sumstek and Manjushri. Unlike other monasteries in Ladakh, it is built on flat ground. Due to its proximity to the Zanskar river, it is also one of the most sought Tourist places at Ladakh for adventure lovers. During the 10th century, an eminent Tibetan scholar, Rinchen Zangpo, laid its foundation. 
Dukhang, also known as the Vairocana Temple, monks worship here and perform all other ceremonies. It is also the assembly hall and the most preserved part of the monastery. A little far off right from Dukahng is Sumstek, a three-storeyed building with a carved wooden porch.
It is famous for its four-armed Bodhisattva statue covering two temple floors. There is a Maitreya Buddha and reincarnated Buddha figures, Avalokiteshvara and Manjushri, on the ground floor. The third structure, also known as the Temple of Manjushri or Jampe Khakang, is a little further away along with the courtyard.
This architecture dates back to the mid 12th century to the early 13th century. You can visit the monastery during different Buddhist festivals such as Losar, Galdan Namchot, and Chotrul Duchen. It is a popular Ladakh visiting place during the festivities.
19) Spituk Monastery
Also known as the Spituk Gompa, this monastery is home to more than 100 monks and a giant statue of Kali, unveiled every year during the Gustor festival, celebrated with great zeal.
During the festival, monks perform the hallmark mask dance. After the two-day dance, prayers start for seven days, with the symbolic termination of evil by burning an effigy. It is known as Pethup Gompa among the locals and was founded in the 11th century by the elder brother of Lha Lama Changchub Od, Od-de.
Travellers often visit it for the glorious view of the Indus valley and the surrounding areas. You can hire a local taxi from Leh to reach Spituk Monastery, just 8 km away from Leh.
20) Diskit Monastery
Diskit Monastery is one of the oldest and largest monasteries in Nubra Valley and also holds a strong connection with the Tibetan myth.
Also known as Diskit Gompa, it was once believed to be the residence of an anti-Buddhist Mongolian demon. Even after killing the monster multiple times, it kept coming back to life. Diskit Monastery now has the disintegrated demon head and hand.
The monastery houses several types of Tibetan and Mongolian texts and a colourful painting of Tashi Lhunpo Monastery. The entry leads you to a prayer hall with a statue of Maitreya Buddha. Dosmoche festival, also known as the festival of Scapegoat, is celebrated with great zeal in this monastery.
Monks perform a mask dance expressing the win of good over evil. It is believed that this performance eradicates terrible luck. This monastery was initially founded by Changzeb Tserab Zaongpo during the 1400s and later handed over to the Rinpoche of Thiksey Monastery during the mid-1700s. It is located at a distance of 2.5km from Diskit village.
You can reach here by walking 35 minutes from there, or you can also hire a cab. Travellers can also take a bus from neighbouring towns like Sumur and Nubra. However, the trekking trail makes it to the list of one of the most adventurous Ladakh tourism places.
From 21 – 30 Top Places To Visit Leh Ladakh
21) Leh Palace
Also known as Lhachen Palkar, the Leh Palace is one of the most visited tourist places in Ladakh. Built during the 17th century under the patronage of King Sengge Namgyal, this was once home to the royal family.
Now it is just home to a museum and a prayer hall with astonishing views of Leh and surrounding areas from the roof. This nine-storeyed building offers a panoramic view from the topmost floor of the palace, which is also known as the Victory Tower.
It is entirely made of hard bricks, mud, wood and sand, and you can draw a close resemblance to the Patola Palace of Lhasa. The palace turned museum still stands in pride with many artefacts, utensils used by the royal family, ancient Buddha relics, and paintings dating back almost 450 years.
Locals adorn the palace with lights during festivals, which are truly magical to experience. The Archaeological Survey of India monitors all the renovations required in this building to keep the history intact from that era. When you visit the palace, remember to wear comfortable shoes as you will have to walk around a lot.
Leh Palace is in the old city of Leh, around 5 km from the Leh Air Force Base Airport. You can easily walk through the bazaar via Jama Masjid to reach the palace.
22) Tso Kar – Most Deserted Places To Visit Leh Ladakh
Popularly known as White Lake due to the salt deposits it leaves by the shore, it is located in the Rupshu Plateau of Ladakh Valley.
It is smaller and more peaceful than the other two lakes in the high altitude region (Pangong and Tso Moriri). It is advisable to visit this lake in June-July since, during winters, temperatures can fall to -40°C.
Tso Kar attracts a lot of bird watchers during the migration season as you can spot a variety of birds such as Brahmin ducks, bar-headed geese, and black-necked cranes. It is a popular Ladakh visiting place among nature lovers.
The lake has minimal camping options for you to spend the night there. Trekkers and Hikers can pitch the tents west of Tso Kar at 3 km from the lake. If you are planning to stay, make sure you carry enough warm clothes and sufficient cash as there are no ATMs nearby.
There are not many options for food. We recommended bringing your own food for convenience. It is also advisable to hire a taxi from Leh as it is 160 km away.
23) Hemis National Park – Unexplored Ladakh Visiting places
Home to the rare snow leopards, this national park is the highest globally, with an altitude between 3,300 to 6,000 metres above sea level.
This park houses six villages with over 1400 residents and a 400-year old Hemis Monastery. This park offers activities such as trekking, camping and hiking. Other animals that can be found here are Ibex, Shapu, red fox, Tibetan wolf, bharal, and Himalayan marmots, to name a few.
The lower region of the park has more than fifteen types of endangered species of medicinal flora. You can spot snow leopards during the end of winters, but the best time to visit Hemis National Park is during May-September. Trekking is the most convenient way to go around Hemis National Park, as the roads are not very vehicle-friendly.
You can find multiple transport options from Leh to the park. However, you can also trek from the Spituk village in Leh to reach here. The entry fee for Indians is INR 20 and INR 100 for foreigners. Hemis National Park is a must-visit in Ladakh visiting places if you love nature. 
24) Hunder Village
This remote desert village is located in Nubra Valley, 7 km away from Diskit Monastery. It is also home to sea-buckthorn forests, known for its medicinal properties.
You can find Hunder Gompa here, the oldest monastery in Nubra valley. The area beyond this village is under Indian Army surveillance. It is located very close to the Siachen glacier and Pakistan border. Tourists can visit this Ladakh tourism place from June to August.
Carry enough cash as there are no ATMs in the village. There are small shops where you can find basic amenities and a few guesthouses and homestays for tourists.
This unexplored place is slowly becoming one of the popular Places To Visit Leh Ladakh.
25) Tanglang La
The Border Road Organisation opens the roads during April-June. The drive to Tanglang La is breathtaking yet dangerous. It is advisable to travel with someone who knows the route.
Located at 5,358 metres, the Tanglang La is a high mountain road on the Leh-Manali highway. It is the 12th highest-motorable road globally and the second-highest mountain pass after Khardung La. The pass is lined with prayer flags, and the view from the summit is incredible.
Driving through this pass can give you amazing views but is also thrilling due to its unpredictable turns. The temperatures can drop to a minimum of -35° C in winters. BRO clears the ice for vehicles to pass in Tanglang La, except the north of the pass.
The oxygen level dips to almost half when compared to sea level. Travelling to the summit through the loose-stoned asphalt road is tough sometimes.
26) Turtuk – Best Voted Ladakh Visiting Places
Located on the banks of the Shyok river, there is not much to do in this small village except trekking and visit the monasteries and royal houses.
The government opened this new village to tourists in 2010. It remains cut off from Ladakh for almost 6 months in a year. However, this quaint little picturesque village got its charm from its people and culture. This is one of the few tourist places in India to experience Balti culture.
The homestays and guest-houses are not available online for booking. You have to explore the area and talk to the locals if you plan to stay in this postcard village.
Turtuk is a military-dominated area. Indians need the Inner Line Permit, and foreigners need Ladakh Protected Area Permit to visit this place.
27) Phugtal Monastery
This isolated monastery is at the mouth of a natural cave on a cliff. Lamas built this monastery about 2,500 years ago. If looked at from far, it resembles a honeycomb.
Adventure lovers love this monastery because it can only be reached after strenuous trekking. The trek is full of enchanting views and sounds. You can take a taxi to Anmo village from Padum. The way up to the monastery contains steep and narrow passages.
You will reach Cha village after 2-hours of trekking, a mid-stop. You can carry your journey onward to the monastery from here. It would take another 3-5 hours. The journey from the village is very tiring yet very rewarding. Local residents do not recommend visiting this place alone. Take a local or tour guide for safety reasons. The entrance of the monastery depicts the image of a cave.
Such tourist places at Ladakh away from the hustle and bustle is perfect for meditational activities. On the cave wall, you will notice the appearance of 16 early legendary followers of Buddha. 
28) Lamayuru
This quaint village en route Leh-Kargil road is also known as the Moonland of Ladakh due to its peculiar landscape, which resembles the moon's surface.
Its fame is credited to the breathtaking view of the moonlike surfaces carved into mountains. Tourists from different places flock to see this surreal destination.
It seems otherworldly during full moon nights, something you can't experience every day. This is gradually gaining its position in Ladakh visiting places. 
29) Chang La Pass
This 15 km long pass lies between Leh and Pangong Lake, is one of the highest motorable roads, and is very popular among bikers.
This gateway to Changthang is open from mid-May to October for tourists. Indian Army always guards the Chang La pass as the Chinese border is very near. It is the home to the world's highest research station – Defence Research and Development Organisation (DRDO).
While riding on this road, you need to be very careful as there are small streams throughout. It is also not advisable to hang here for prolonged periods due to its high altitude. Check the conditions before travelling because road closures are pretty standard here.
While Indians have free access to Chang La, foreigners need an Inner Line Permit. It is a restricted area for travel. Wear warm clothes and carry warm water and a medical kit for emergencies.
30) Dah Hanu – Unique Ladakh Visiting Places
Dah Hanu is one of the most beautiful tourist places of Ladakh. Located around 163 km to the northwest of Leh in the Kargil region. This village is among the few homes of the Brokpa tribe of Leh.
These tribes are famed for their different ornaments and beautiful headgears. Photographers from all over the world come here to take pictures of this tribe. They are believed to be the only living descendants of the original Aryan tribe.
Tourists can only visit Dah Hanu out of the 5 villages Brokpa inhabited. You should definitely visit these tourist places at Ladakh if you are interested in experiencing cultural diversity. They have blue eyes and a fairer complexion and also follow a different religion from the rest of the people in Leh.
When visiting Dah Hanu, remember that this place does not have hotels, restaurants, and other modern facilities. You will, however, find some camping options and basic stalls with daily amenities. The best time to visit this village is from June to October, as the temperature can rise up to 40°C during summers.
You can hire a cab or drive yourself to this village from Leh. Tourists can obtain a permit from Leh to visit this village. You can spend the night here to experience the culture and livelihood of the Brokpas. Travellers can also choose to explore nearby areas such as Alchi and Likir.
Summary for Ladakh Visiting Places
Leh Ladakh hides many tourist places at Ladakh in its belt. The above-listed places is just a scratch on the surface. The vast area has so much to experience. Every village hidden away from the tourist's eyes holds so much history.
If you really want to explore Tourist places at Ladakh in their true sense. Take some time out of your busy schedules and do not hesitate to have a long holiday. We are sure you will cherish this throughout your life.
If you need any more info, you can get in touch with us at support@ladakhsharedtaxi.com. Or you can call or WhatsApp us at +91 9310960299. For booking tours and taxis with us, you can visit https://ladakhsharedtaxi.com/tours-leh-ladakh/ or https://ladakhsharedtaxi.com/leh-taxi-service/