Leh To Nubra Valley Taxi Fare
This Leh to Nubra Valley taxi fare gives an approximate cost. We all know travelling costs and fares are too high in Leh Ladakh. This is mainly due to the extremely short season of Ladakh. Peak season in Leh Ladakh is only of 4-5 months starting May till September. However, many solo travellers, couples and small groups face a huge challenge in reducing the travel costs.
Also, they want to know how much will it cost them to travel to Nubra Valley? Well, you can find out the Leh to Nubra Valley taxi fare in this calculator easily.
Additionally, you can travel to Nubra via road which is 145 Km from Leh.
Places to visit in Nubra Valley (Leh To Nubra Valley Taxi Fare will change according to the destinations you visit)
Deskit Monastery – This monastery is the largest and one of the oldest monasteries in this valley.
Maitreya Buddha Statue – This is one of the most visited places in all of Nubra. It is a 32-meter statue facing Shyok River towards PoK (Pak border). Nevertheless, stunning Nubra valley views from this place invite you. In fact, you can see this statue in almost all of the photographs available on the internet for Nubra.
Hunder Sand Dunes – Widely acclaimed as the world's highest desert, this village is truly mesmerising. You can see unique double-humped camels on the sand dunes.
Turtuk – You can visit this last village towards the PoK border. In spite of that, you should visit Turtuk for an awesome hidden offbeat holiday experience. Also, about 4000-5000 will be added to the taxi fare from Leh to Nubra valley.
Panamik Hot Sulphur Springs – Known to treat skin related problems if you take a long bath in the same.
Siachen Basecamp – You can clearly see the glacier from the base camp.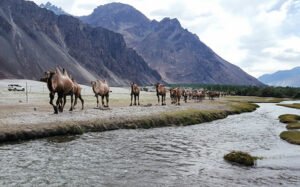 Activities to do at Nubra Valley
ATV rides are available from 300 – 500 per person.
Double humped camel rides – 100 – 200 per person.
Go Karting can be done in 400-500 per person.
Suggested Itinerary –
Day 1 – You can travel from Leh to Nubra Valley via Khardung La. Visit Deskit Monastery and Sand Dunes. Overnight stay at Hunder/Deskit. Total Distance 150 Kms. Time Taken 4-5 hours.
Day 2 – Thereafter, travel back to Leh Ladakh. Total Distance 150 Kms. Time Taken 4-5 hours.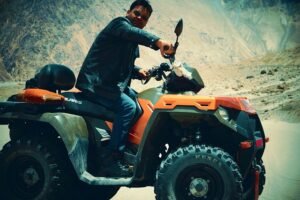 Terms for Leh Nubra Shared Taxi – 
Inclusions – Taxi Fare for 2 days, Driver stay, and food.
Exclusions – Inner Line Permits, Stay and food cost of travellers, any other fee, etc.
The above amount is based on 6 persons booked. The final amount may increase according to the number of persons booked on your dates of travel. Therefore we will get back to you once we receive further bookings. 
We try our level best on the best effort basis to find other travellers willing to share the taxi costs. The final amount of the shared taxi will be informed when a minimum of 4 persons have applied for the exact travel dates. After confirmation, the total amount should be paid in advance to get your slot booked.
Visit https://en.wikipedia.org/wiki/Nubra for more info on Nubra Valley. You can also visit our blog which has practical usable guides to travel to Leh Ladakh.